Boris's advice to artists
The importance of study
Boris has been drawing from a very early age, in fact he claims he cannot remember a time when he was not drawing. He attended art school and is grateful for the formal training it gave him.
He feels it offers several benefits, a good teacher can share his experiences and keep you on a straight path, you can see the work of fellow students and benefit from their feedback, strive to attain the level of those above and recognise your current standing along the artistic path.
Fantasy art
Fantasy art allows the imagination to flow freely. While you can draw upon references from real life, there is no need to rigidly restrict yourself to their forms, for instance a fire-breathing dragon can be based upon the shape and form of a living reptile.
Basing your imaginary characters upon real life observations goes a long way to convincing the viewer to accept your imaginary world.
Inspiration
Often the appearance or pose of a particular model will spark an idea for a painting. With his background in bodybuilding, heroic figures with amazing muscular bodies are not hard to come by, and Boris loves to paint bodies!
Another source of inspiration when doing a book cover for example, can be the script itself, authors who can write a scene in vivid detail are invaluable. Adventure novels can supply no end of heroic scenes to render.
Learning to see
When learning to draw and paint, it is essential to observe, to have the ability to transfer a three-dimensional reality into the two-dimensional world of paper or canvas. Proportion is key. Observation brings an understanding of how shapes and spaces relate to each other and their surroundings.
An example would be, in order to draw figures in correct proportion, an understanding of anatomy is useful. Knowledge of how various parts of the body connect together, how the muscles attach the shapes and angles they can, and cannot form will lead to a more realistic rendition.
Their method of preparation and painting.
Many of the texts within these panels are abridged from Boris and Julies painting guides © Fantasy Art Techniques and ©Fantasy Workshop. A considerably greater explanation of their technique is contained within these volumes.
1
format_quoteOne problem Boris and Julie find with illustration board is that it is naturally too absorbent, sucking the paint in and causing it to dry too quickly.format_quote
coating with gesso
format_quoteThe boards are primed with three coats of Gesso, each brushed on at right angles to the previous one to avoid creating texture and left to dry before recoating. Gesso is a white acrylic undercoat that gives a matt surface. The large three-inch brush is dipped in water each time before recharged to thinformat_quote
2
format_quoteIt takes several hours for the boards to dry so Boris and Julie generally take half a day for the job to prepare several boards at a time.format_quote
preventing bowing
format_quoteTo resist any tendency to bowing, the Gesso board is taped to a three quarter inch foam core backing, which has two layers of paper sandwiching on of Styrofoam. The boards are taped together at the edges with artists tape (a finer and wider version ofmasking tape).format_quote
3
format_quoteTwo inch tape is laid over the sandwiched boards to create a frame around the area to be painted.format_quote
creating a border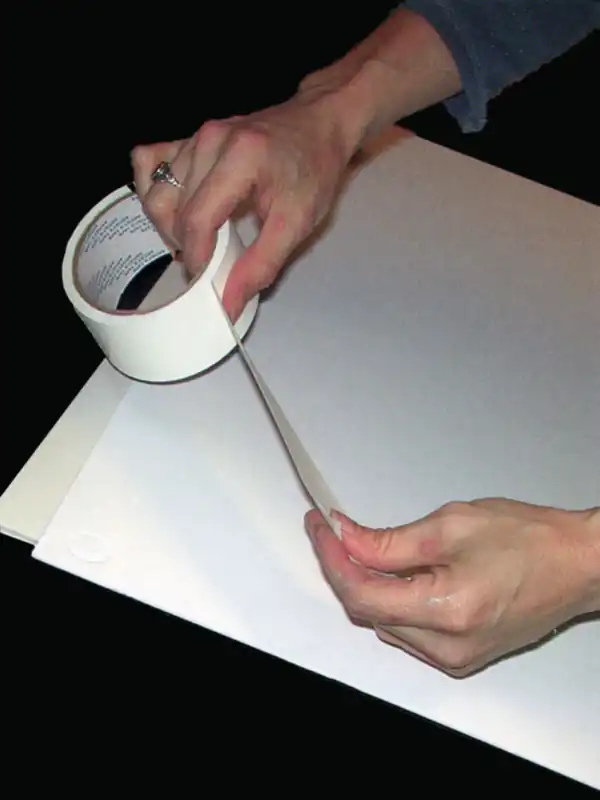 format_quoteJulie: A lot of people think the last two steps are not important but they give the work a professional finish.

Boris:Presentation still makes a difference if someone comes to buy a painting. Also it shows a pride in what you do.format_quote
4
format_quotePressing down the edges to prevent paint seepage.format_quote
Preventing seepage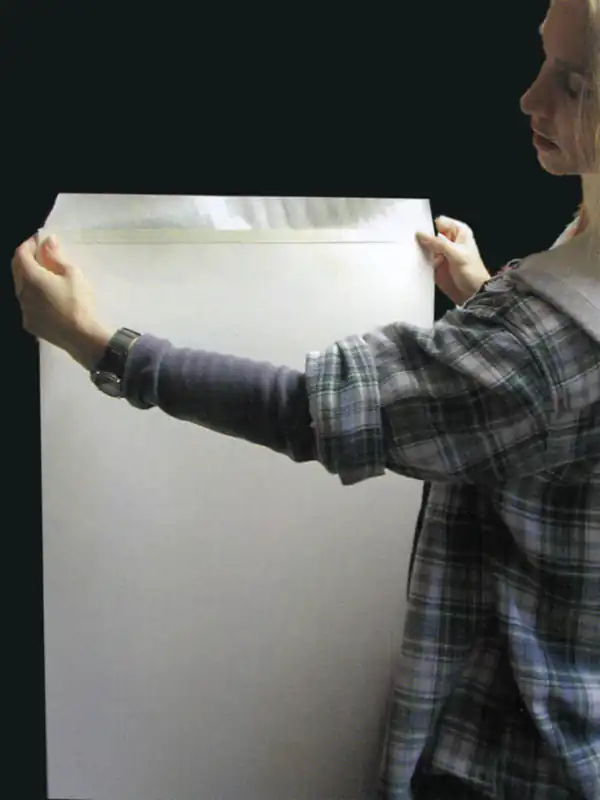 format_quoteFinally, a burnishing tool is used to press down the panel edge of the masking tape to prevent paint seeping under it. When a painting is complete, the masking tape is removed to give a nice clean edge; but it's important to leave the artist's tape binding the boards together so the picture doesn't curl as the paint dries.format_quote
5
format_quote In developing a rough sketch, I like to think in terms of solids before defining anything. I begin with masses or lumps and a tentacle, and so on.format_quote
The rough Sketch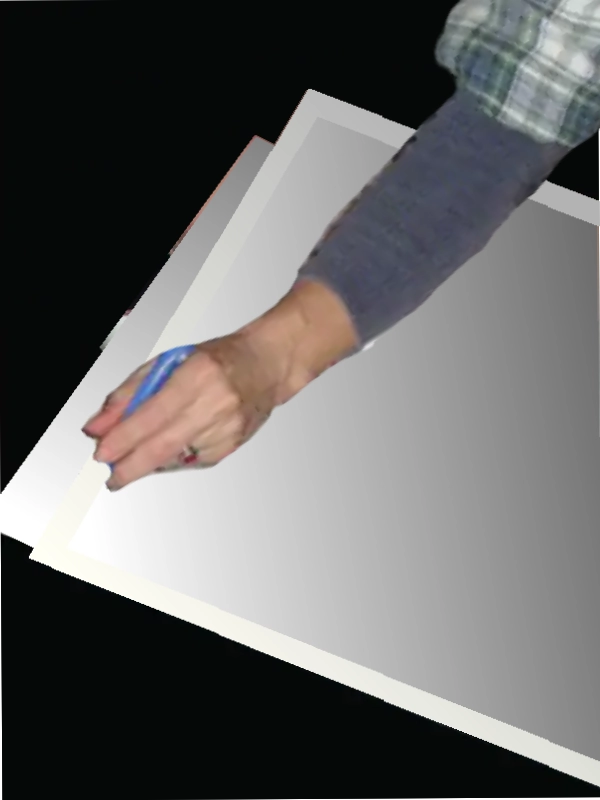 format_quote ...I do tracing upon tracing. First I sketch my mass, then I sketch my elements, then I start defining. The cleaner and more defined it gets, the less it has. The rough, quick, loose, undefined basic shape of the beginning relates more to the mental idea than the final sketch.format_quote
6
format_quoteThe first step before beginning any painting is the sketch, I prefer to use pen and ink. I usually use a Rapidograph...because I don't have to keep dipping it in ink.format_quote
Coloured preliminary sketch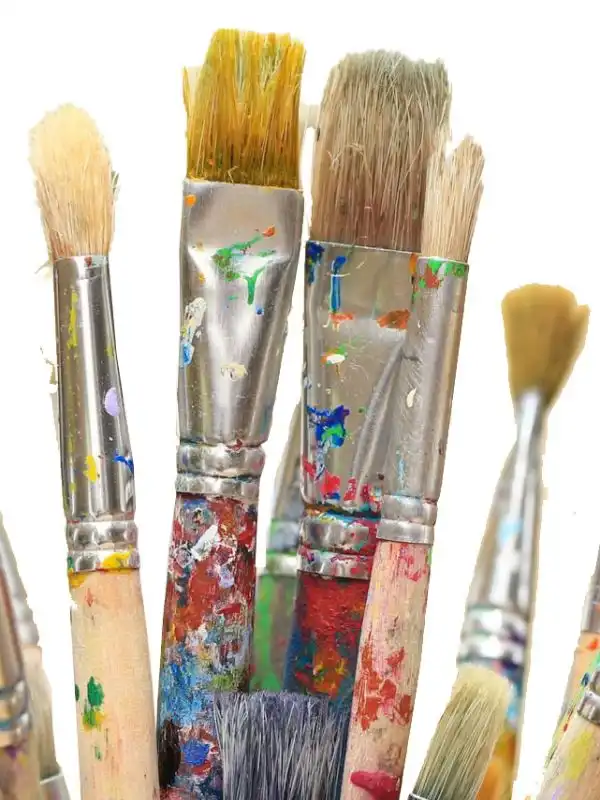 format_quoteI like to do a fairly finished colour comp... The more finished the sketch, the more I have been able to define and refine my ideas, as well as solve anyproblems relating to colour and/or composition.format_quote
7
format_quoteBoris and Julie use Windsor & Newton sable series 7 N0. 0 or 1. These are expensive, and they use one or two per painting. To make them last clean them when finished for the day.format_quote
Preparing brushes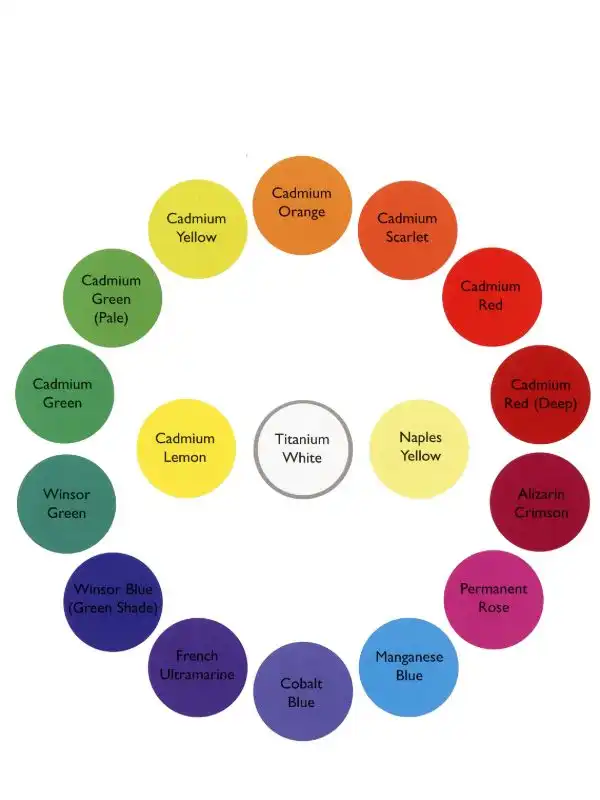 format_quoteStart with two small, two medium and two large brushes. One of these is for laying down areas of colour and one for blending paints on the board, going over them with a clean, dry brush to smooth the gradations of colour...Blending is 50% of the painting process. Smoothness is achieved by using a dry brush. Some areas are blended and some made really rough, to get contrasts.format_quote
8
format_quoteDisposable palette pads are used for each new painting. Not allowing the paint to dry for more than three or four days otherwise it dries too quickly on the board and becomes to work.format_quote
Boris's palette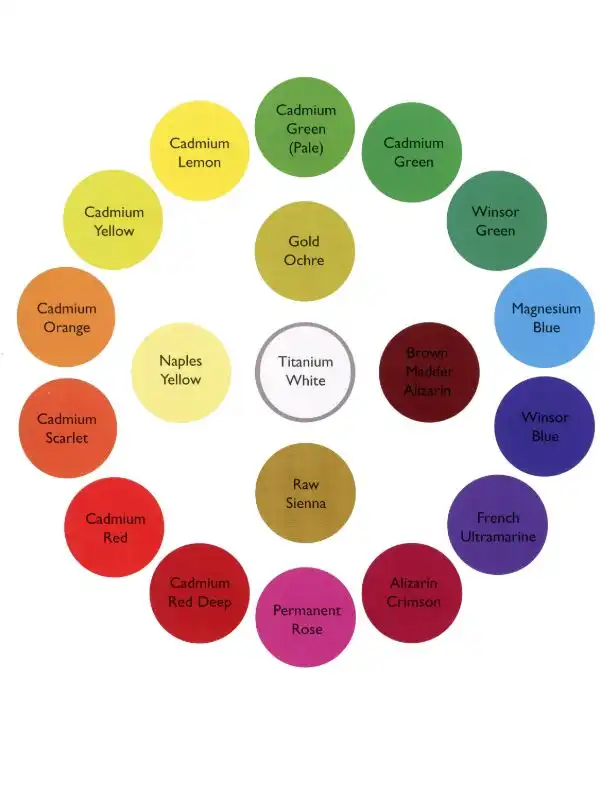 Cadmiums: Green, Pale-Green, Yellow, Lemon, Orange, Scarlet, Red, Deep-Red

Windsor: Green, Blue-(Green Shade)

Also: Titanium White, Naples Yellow, French-Ultramaine, Cobalt-Blue, Manganese-Blue, Permanent-Rose, Alizarin-Crimson
9
format_quoteJulie: I usually put most of these colours on my palette even if they're not all going to be used, because you don't want to have to stop in the middle to add a new colour.format_quote
Julie's palette
Cadmiums: Deep-Red, Red, Scarlet, Orange, Yellow, Lemon, Green, Pale-Green.

Windsor: Green, Blue

Also: Titanium White, Naples Yellow, Brown-Madder-Alizarin, Raw Sienna, Gold Ochre,Manganese-Blue, French-Ultramaine, Alizarin-Crimson, Permanent-Rose
10
format_quoteProps can bring the models closer to what they are trying to representformat_quote
A good range of props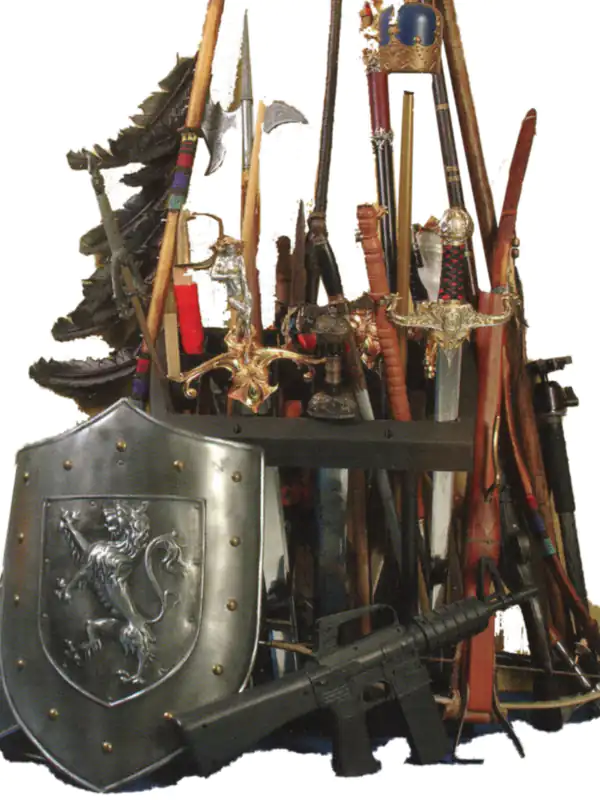 format_quoteBoris and Julies's battle props range from genuine antique weapons and authentic replicas through to fantasy swords, some of which were designed by Boris and Julie themselves for the Franklin Mintformat_quote
11
format_quoteBeing professionals we've built up our equipment little by little, but most consumer digital camers now give really good-quality pictures.format_quote
the studio and equipment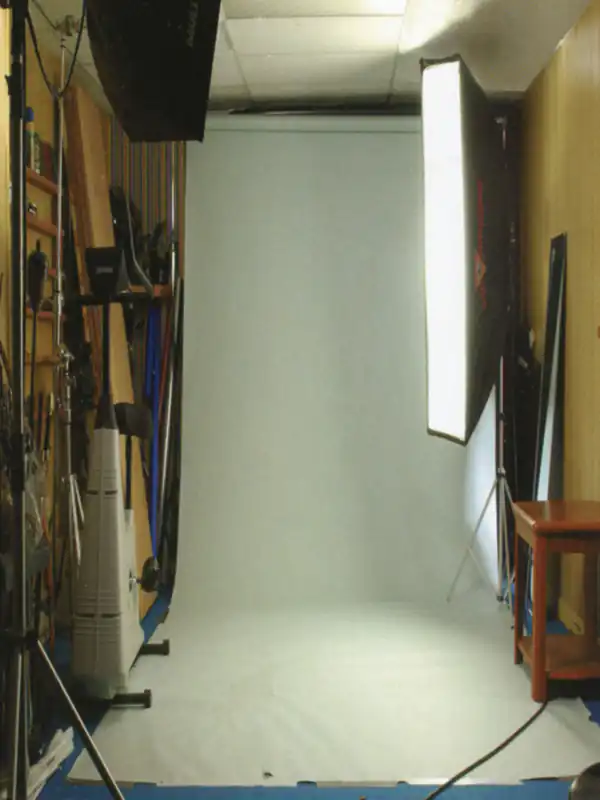 format_quoteHung in the basement studio is a large roll of paper that forms a neutral background in front of which they photograph the subjects of their paintings.format_quote
12
format_quoteformat_quote
Photographing Models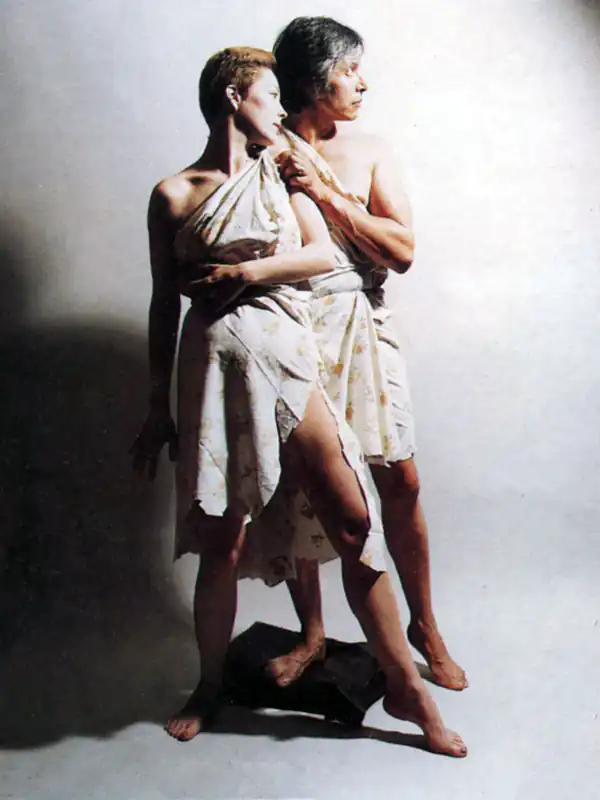 format_quoteTwo light banks are aimed at the figures from front and back to produce shadows enhancing the 3d quality of the subject. The light banks Boris and Julie use are strobscopic, giving a brief burst of intense light for each shot. Harsher lighting is less flattering, but gives more detailformat_quote
13
format_quoteUsing selected photos, a print out in sepia tones at the intended size is made, a line drawing using tracing paper is made from this.format_quote
Transfer sketch to board
format_quoteThe line drawing is laid face down on a light box, with an HB pencil a reverse image is made onto a second piece of tracing paper. This is then taped face down onto the Gessoed board and rubbed with an 8H pencil, thus transfering the image the right way up.format_quote
14
format_quoteThe line drawing from the photo is kept handy so that it can be referenced later on.format_quote
adding shadows
format_quoteThe transferred image is fleshed out rendering highlights, halftones and deep shadows to a relatively finished degree. This is done using a wash of burned sienna or burnt umber acrylic paint, which seals the pencil to the board.format_quote
15
format_quoteA mixture of oil paint, one part cobalt dryer and three parts paint thpanel gives a medium that dries in about five hours.format_quote
Applying colour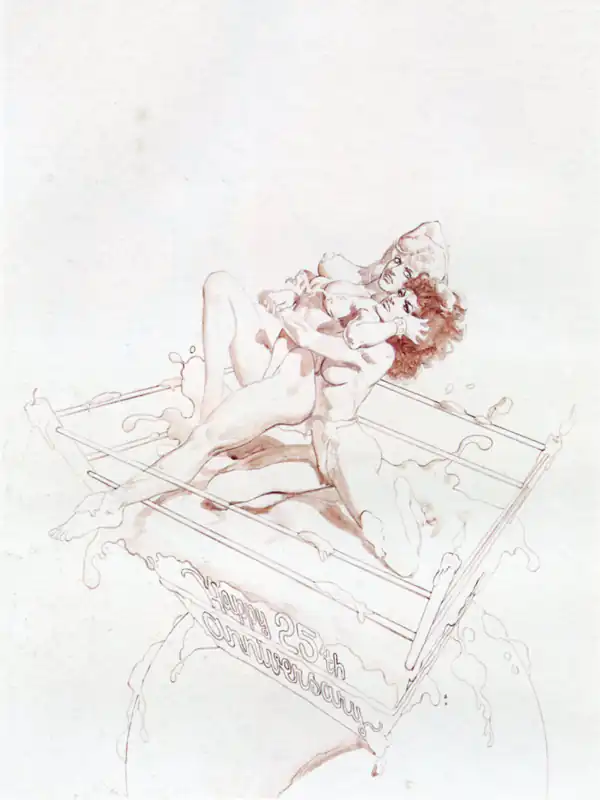 format_quoteWith this mixture colour is applied which provides a good foundation for the finished work, but still has enough transparency to still see the the acrylic rendering underneath.format_quote
16
format_quoteThe background is always the first thing to be rendered, working from the furthest elements to the closest.format_quote
Working on Background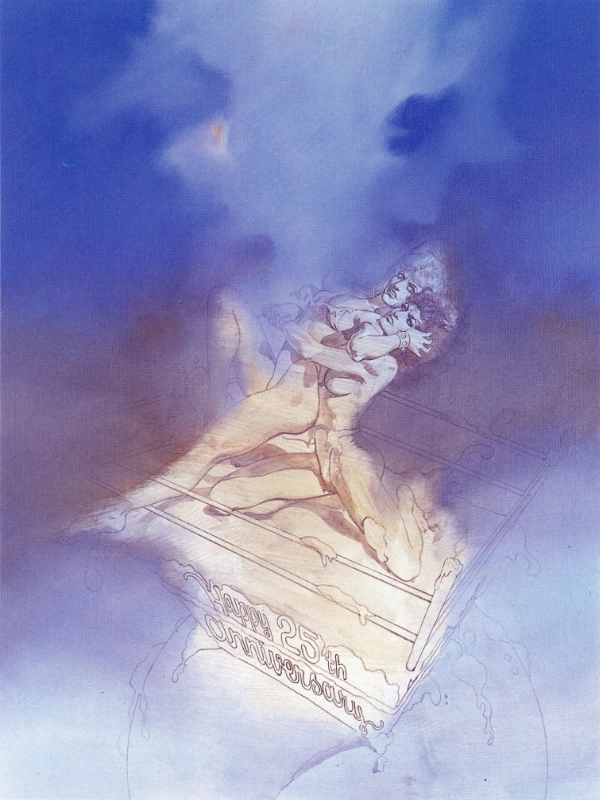 format_quoteFor backgrounds a half-inch brush with natuaral bristles is good, a smaller brush is handy for details. Once the colours are in place a dry brush with soft long bristles is used to blend them. A small brush is used to define edges and shadows.format_quote
17
format_quoteJulie: I often start with face and eyes of the main figure because they are the main focus of a painting.format_quote
adding detail
format_quoteNext is the hair, just enough to get the values right to contrast with the skin, starting with the darkest colour being careful to keep the shadows on the face warm.format_quote
18
format_quoteWith the whites of the eyes it's important to put down what you actually see, rather than what you think you see.format_quote
More underpainting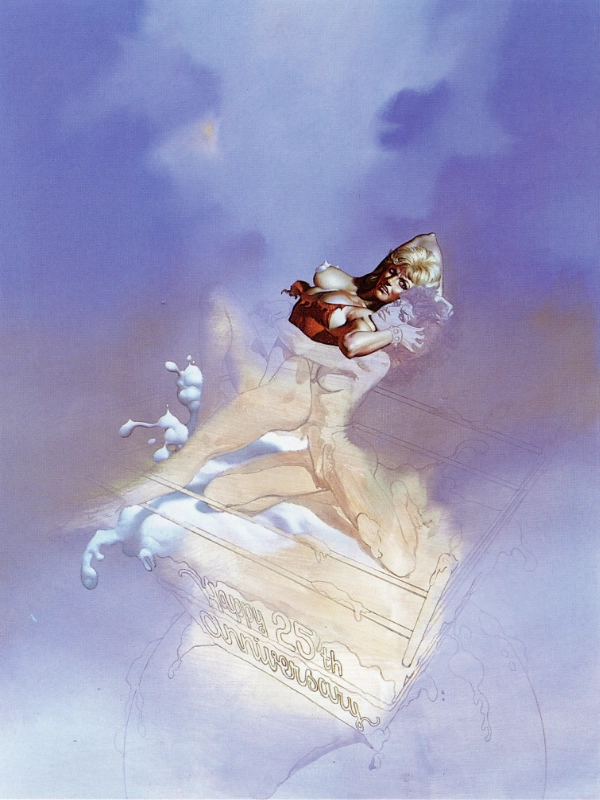 format_quoteOn the lips, it looks more natural to use different reds rather than a single colour, also soften the edges by blending mostly in the lighter areas, wiping the brush to keep it clean.format_quote
19
format_quoteIf ever you feel your getting bogged down in an area, move on to somewhere else, and come back to it later.format_quote
Finished painting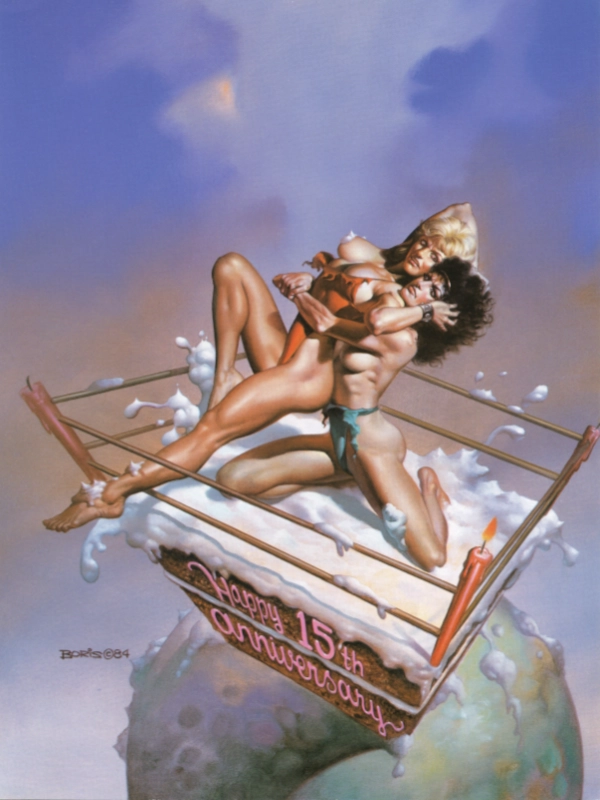 format_quoteSometimes, even after a painting is 'finished' it may be necessary to go back and make minor changes. This can be at the request of an art director, or simply because the painting doesn't feel quite right.format_quote